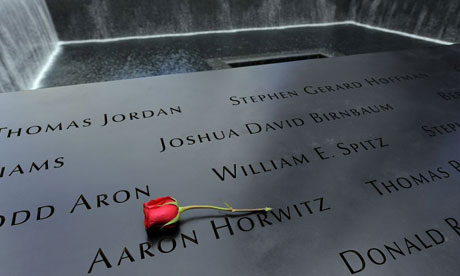 The 9/11 memorial at Ground Zero in New York. Photograph: Justin Lane/AP

In this poignant article, author Morris Davis, writing for the Guardian, remembers when the land of the free and the home of the brave was a little more of both.
Do you remember Monday, September 10th, 2001? The market was strong, unemployment was low, and the budget was not only balanced, but we had a sizable surplus. At that time, we did not see a military threat on the near horizon. Honorable Ric Shinseki, now Secretary of Veterans Affairs, was then Army Chief of Staff. We were trying to figure out how to spend some of the surplus to dramatically transform the Army into a leaner, more lethal, more responsive force within the time available.
All that changed in a New York minute.
I will be spending a portion of my 9/11 remembrance day with friends and family members of the fallen in the Pentagon, at the memorial near the point of the plane's impact. The place where 29 of my Army Staff co-workers had their lives snatched from them is holy ground for many of us who were there in the Pentagon that Tuesday morning eleven years ago.
The passage of time does little to blunt the pain of our losses, but it does afford us the opportunity to examine our motives and our perspectives in a new light. The 11th anniversary of 9/11 is a fitting moment for an audit of American values.
Morris argues persuasively that perceptions of what is right and wrong changed when "fear took hold in the Home of the Brave." Fighting for justice and freedom is one thing. Fighting for revenge, or political leverage, or financial gain is another thing entirely.
Given the 'war on terror' and all its attendant costs in time, talent, and treasure, Morris asks, are we better as a Nation than we were 11 years ago?
There is nothing we can do to bring any of our fallen back. They are gone. There is nothing we can do to roll back the hands of time, either. However, we can all look at history with the benefit if hindsight, and think about what it means to be brave in the face of uncertainty and brutality.
A solemn article for a solemn day, and worth a read.