I am happy to pass along the results local brewers achieved at the recent annual Denver Bacchanalia known as the Great American Beer Festival.
My definition of local includes the area inside a 100 mile diameter circle centered on the US Capitol. This includes all of DC plus parts of Delaware, Maryland, and Virginia.
My definition of Bacchanalia is 3 days, 5,507 beers from 1,309 breweries hailing from 50 states plus Washington, D.C. in 145 different beer styles--all at a mile high altitude.
Local Medal Count
District: 1
Delaware: 3
Maryland: 5
Virginia: 7
TOTAL: 16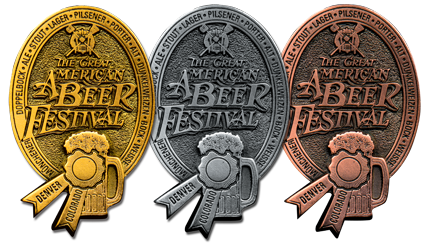 Beer Name
Brewery
State
Category
GOLD
Rauchbier
Gordon Biersch Brewery Restaurant - Annapolis
MD
Smoke Beer
Raspberry Stout
Hardywood Park Craft Brewery
VA
American-Style Fruit Beer
Schwartz Bier
Devils Backbone Brewing Co. - Outpost
VA
German-Style Schwarzbier



SILVER

The Citizen
DC Brau Brewing Co.
DC
Belgian- and French-Style Ale
Bedotter
Iron Hill Brewery & Restaurant - Newark
DE
Belgian-Style Tripel
Choc Lobster
Dogfish Head Brewings & Eats
DE
Indigenous/Regional Beer
Spiced Harvest
Old Dominion Brewing Co.
DE
Pumpkin Beer
Belgian IPA
Gordon Biersch Brewery Restaurant - Rockville
MD
American-Belgo-Style Ale
Old Pro Gose
Union Craft Brewing
MD
German-Style Sour Ale
Amber Waves Ale
Capitol City Brewing Co.
VA
American-Style Amber/Red Ale
Old Virginia Dark
Devils Backbone Brewing Co. - Outpost
VA
American-Style Dark Lager
Turbo Cougar
Devils Backbone Brewing Co. - Outpost
VA
Bock



BRONZE

Sweet Baby Jesus!
DuClaw Brewing Co.
MD
Chocolate Beer
Gold
Heavy Seas Beer
MD
Golden or Blonde Ale
Alt Bier
Devils Backbone Brewing Co. - Basecamp
VA
German-Style Altbier
"Hydraulion" Red
Three Notch'd Brewing Co.
VA
Irish-Style Red Ale