This is the seventh installment in an 8-part series on Carnival, the biggest party in the world

Dateline (proposed): DAYTONA, March 5, 2030
Daytona Beach, Florida is known for many things, such as the Daytona 500 auto race, and wild college students cutting loose on Spring Break. Not the least of the events attracting folks to Florida is the famous Daytona Bike Week celebration. This year (2014) will be the 73rd annual gathering. I have yet to attend either the aforementioned race or the Spring Break activities, and at this point in my life I am unlikely to chase either of these events. I have not yet been to Bike Week either--but if this party is anything like the
Sturgis Motorcycle Rally
, I must find a way!
And what does any of this have to do with Mardi Gras, you ask? (Go ahead, ask. I'll wait....). Good question! Daytona Bike Week (DBW) begins on the first Friday in March and runs for 11 days, encompassing two weekends. This year, DBW (7 - 16 Mar) occurs after Ash Wednesday (5 Mar). I wonder if the fact that DBW occurs during Lent will help curb the debauchery? On the other hand, I also wonder if DBW is more fun in years where we have a late Easter...?
This got me wondering, when is the next time the first Tuesday in March is also Fat Tuesday? Talk about worlds colliding! So I constructed the table below. As it happens, this confluence is a fairly infrequent occurrence.
Comparing Daytona Bike Week to Fat Tuesday
Daytona Bike Week is highlighted in yellow. Ash Wednesday is represented in the grey column. From 2014 to 2040, a span of 27 years, only twice (2030 and 2038) does Mardi Gras, the day before Ash Wednesday, fall on the first Tuesday in March, i.e., during DBW.
Someday
My girlfriend is tall, has auburn hair, rides a Softail Custom Deluxe similar to the Softail Springer in the painting above. (Incidentally, she looks great in riding leathers, too!) Now we just need to get to Daytona for Bike Week! And when we do, I will take and post a photo just like this one. If we happen to attend DBW during Mardi Gras,
Katy, bar the door
!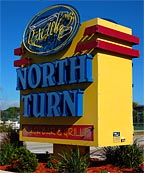 Long before the Daytona International Speedway opened in 1959,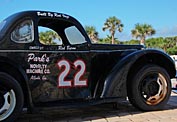 race car drivers flocked to Daytona Beach to race on the well packed beach. The wide beach and smooth sands created the perfect site for testing and racing

high speed automobiles

. By the mid

1920s the new

Pier Casino attracted many Florida vacationers, including many race car drivers. When their photographs circulated worldwide, Daytona Beach took on the catch phrase the

World's Most Famous Beach

.
Mention Daytona Beach, and one of the first phrases likely to pop into people's minds is "gentleman, start your engines." This famous catchphrase, often used to mark the start of a race, fits Daytona well, as it is a city with a true passion for racing, the automobile, and chasing that elusive next speed record. Graced with miles of prime beachfront, it is also a wonderful holiday destination, and has some massively popular special events.
Most famous of all of Daytona's annual events is the Daytona 500. Held every February at the Daytona International Speedway, it draws hundreds of thousands eager to see the best drivers in the world risk life and limb driving the fastest cars. Another spectacle that shouldn't be missed is Bike Week in early March, during which thousands of loud Harleys and their even louder owners take over Daytona and are celebrated for it.
At some point during all the excitement at Daytona, you may want to take a step back from the crowds and merrymakers. For a great view and the possibility of some excellent photos, climb the 200-stair Ponce de Leon Inlet Lighthouse and Museum. Another way to relax is to stop by something you could only find in the USA--the Little Chapel by the Sea, which used to be a drive-in theatre, and has now been reborn as a drive-in church.
A first word of advice--if you are going to be in town during any of the above mentioned special events, book well in advance. Also, if you are with your family and/or wish to keep the party scene at arm's length, look to stay to the west of Daytona or in New Smyrna Beach. Fine restaurants abound--for something upmarket, try Rosario's Restaurant, and for some delicious seafood (their oysters come from their own beds) a good choice is JB's Fish Camp and Restaurant.