On Saturday, Oct 6th, the Green Knights Military Motorcycle Club, Ch 20 hosted a ride to Katie's Coffee House in Great Falls, VA.
Cars and Coffee is an international celebration of classic and collectible cars, trucks, and motorcycles. I believe the movement started in
Southern California
. With all the wealth we have in northern Virginia, it makes sens that a local chapter of car enthusiasts should form.
And so it has
!
During the week,
Katie's Coffee House
supplies residents in and around the village of Great Falls with the essentials of a good life: bread and coffee. However, a transformation takes place early Saturday mornings, especially when the weather is nice. Owners of classic cars from miles around drive in to the village, as early as 6 am, to snag a spot in front of the Coffee House, where they park, grab a cup of coffee, and talk cars with passersby.
I saw at least 80 cars, 5 motorcycles, 3 military trucks, and 2 pickups on display. I saw everything from a 1949 Coupe De Ville to a brand new 556 hp 2013 CTS-V. There were lots of other American-made Corvettes and Mustangs (Shelby and Cobra)...
... and plenty of British, Italian, and German cars, too: Triumph, MG, Astin-Healy, Astin-Martin, Porche, Jaguar, Ferrari, Maserati, Lamborghini, and my personal favorite: Allard.
Verdis and Dave, hot java in hand, check out a hot Ferrari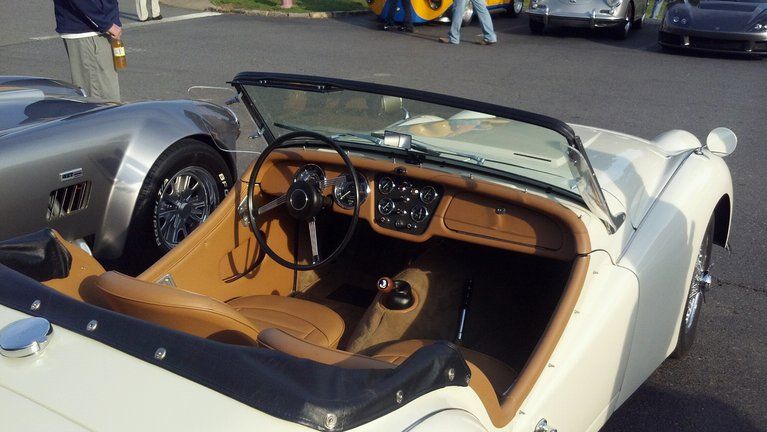 Drivers with a sense of humor brought some unusual offerings for display, including a vintage Mini-Cooper with period luggage strapped to the roof, and a rat truck with a weasel stuck in the intake.
Best of show (IMHO) 1951? Allard K2 Roadster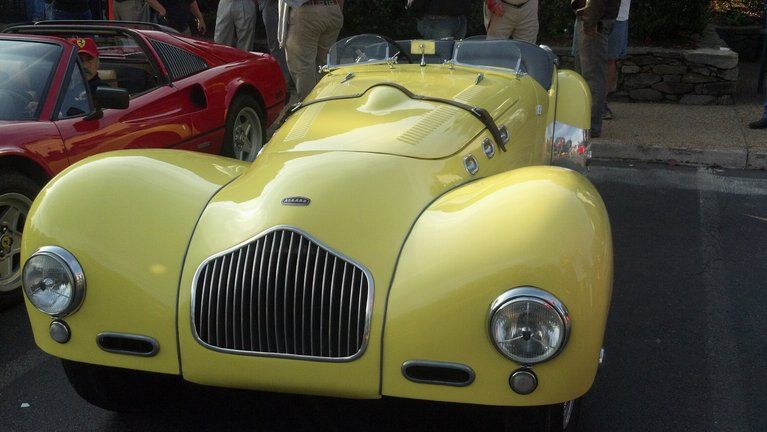 The ride to and from Katie's was an event in and of itself. Our route took us alongside the Potomac River on the George Washington Parkway to the Capitol Beltway, and then out the old Georgetown Pike past Great Falls National Park to the village of the same name.
This was my first Cars and Coffee event, and I loved it! Highly recommended!